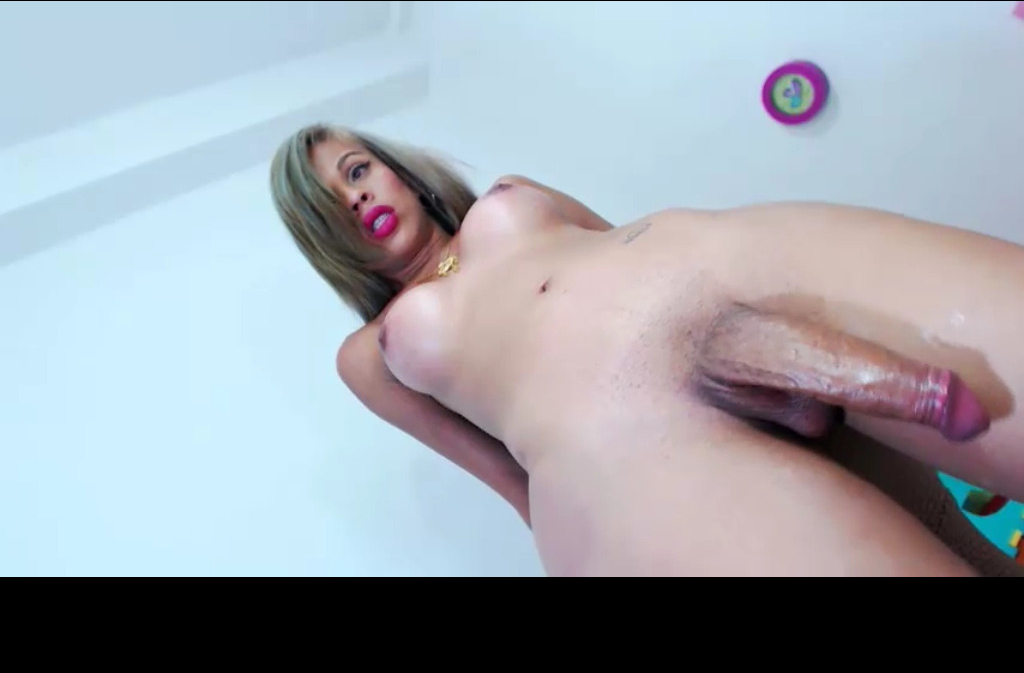 2016's Top 22 Trans Porn Stars, Live Cam, Escorts & Models
Fish
Gender: Transgender
Location: Bangkok, Thailand
Eye Color: Black
Hair Color: Brunette
Ethnicity: Asian
Penis Size: Long
Build: Petite, Tall
Breasts: Implants, big.
Twitter: @ShemaleFish
Fish is a sexy Thai ladyboy with long slender legs, a sexy dark skin tone, and a long TS cock. This gorgeous Thai babe can be found on her webcam most days on CB, and there are also some porn videos out there of her for your viewing pleasure. Check out her live cam feed as well as her private twitter account @ShemaleFish to stay up-to-date with her live performances and porn shoots.
Bailey Jay
Gender: Transgender
Location: United States
Eye Color: Brown
Hair Color: Black
Ethnicity: White
Penis Size: Above Average
Build: Petite /
Breasts: Implants: Medium/Big
Twitter: @BaileyJayTweets
Website: ts-baileyjay.com
Bailey Jay is probably the world's most popular Tgirl, and rightfully so. She was awarded AVN's Trans Performer Of The Year in 2011 and 2012. Still, with a bubbly personality and a blossoming career, she does live cam shows with her husband Matt on CB. I'm certain she is still one of the most sought after transgirls in the adult biz. Bailey has a gorgeous feminine face, a petite body, perfect tits, and a nice fat cock that any guy –or girl– would be lucky to taste! Bailey has a whopping 144,000 followers on Twitter, and like I said earlier, she is probably one of the most popular TS's in porn. Check out her member site here: https://www.ts-baileyjay.com/ or her twitter feed here: @BaileyJayTweets for exclusive content from Bailey Jay.
Jessica Fox
Gender: Transgender
Place of Birth: Phoenix, AZ
Eye Color: Grey
Hair Color: Black
Ethnicity: Native American
Penis Size: Average
Build: Petite
Twitter: @TsJESSICA_fox
Website: jessicathefox.com
TS porn starlet Jessica Fox is a Native American transgender porn star that loves being in front of the camera. When I was first introduced to her, she was in a porno being banged by Castro. So mad props for that. That guy is fucking HUNG! She is very kinky and has done work with all the main TS porn companies including Grooby, Kink, Shemale-Club, and many others. This 27 years old transgirl is from Phoenix, AZ and sports a 7 inch fully functional toy that makes all the boys drool. Check her out on social media on her Twitter here: @TsJESSICA_fox
Honey Foxxx
Gender: Transgender
Location: Los Angeles, California
Eye Color: Brown
Hair Color: Black
Ethnicity: Ebony/Latina
Penis Size: Big/Thick
Twitter: @HoneyFoXXX
Honey Foxx is a breathtaking Puerto Rican/Cuban Trans porn star that you're probably familiar with by now. This hung Latina babe has shot for the Kink empire as well as several other major porn networks. Honey has lots of awesome tattoos on her gorgeous body, and my personal favorite is the one that spans her chest accentuating her perky breasts. (I think is a lion's head with wings.) I think what I love most about Honey Fox is that she is pan-sexual and versatile. Oh how I would love to be in a poly family with such a Goddess! She performs live on CB, and her porn is all over the net. Honey Foxxx is a trans porn star that you should be fapping to on the regs.
Sienna Grace
Gender: Transgender
Location: Las Vegas, United States
Home Town: Bakersfield, California
Hair Color: Brunette
Eye Color: Brown Ethnicity: White
Penis Size: Big
Breasts: Implants. Medium/Big
Twitter: @tssienna
Sienna Grace is a Cali girl living in Las Vegas. She often does live shows on CB and has been featured on sites like Grooby, EvilAngel, and other main TS porn networks. Sienna is a Caucasian transgirl with a petite body, a very attractive face, and a pretty large cock. In her movies, you can see her top and bottom with girls, guys, and other trans pornstars. This versatile beauty is well deserving of a place in our Top Transgirls of 2016. You can follow her on Twitter here: @tssienna to stay up-to-date with her goings on, scenes and more.
Nicolly Navarro
Nickolly Navarro, Nicole Navarro, Nicolly Bella
Gender: Transgender
Location: Sao Paulo
Eye Color: Brown
Hair Color: Black
Ethnicity: Latina
Penis Size: Big
Breasts: Implants. Medium/Big
Nicolly Navarro is another transgirl from Sao Paulo, Brazil. She's got it all - a thick round ass, big tits, a huge girthy cock, a great mouth (she looks like it gives great head) and a body that is sexy and curvy in all the right places. You can find many hot trans porn videos of Nicolly Navarro on aShemaleTube and TSyum.xxx. I think you will be pleased to check out her channels. This girl is pretty special.
TS Parris
Gender: Transgender
Ethnicity: African American/ Ebony/ Mixed
Hair Color: Varies
Eye Color: Brown
Penis size: 9 inches
Breasts: Implants. 36D Perky
Twitter: @TSparris
Website: tsparris.com
TS Parris is an Ebony trans escort Goddess from California who is currently residing in Las Vegas. She is tall, she is Dominant, and she has nine girthy inches of cock to satisfy any size queen experienced enough to take her monster. She is a perfect combination of Hawaiian, Black, and Indian. With her mixed ethnicity, TS Parris is blessed with a smooth and flawless caramel complexion, full sexy kissable lips, curvy hips, captivating eyes, a gorgeous smile and oh, did I mention a huge 9" long cock?!? You can view TS Parris' member site here: tsparris.com and follow her on Twitter here: https://twitter.com/TSparris
Jessy Dubai
Gender: Transgender
Location: USA
Eye Color: Brown
Hair Color: Black
Ethnicity: Latina
Penis Size: Big
Twitter: @tsjessy
Website: jessydubai.com
TS porn star Jessy Dubai Hot Mexican trans porn star Jessy Dubai probably has the biggest collection of videos on all the TS tube sites. This lusty LatinX is Mexican and Colombian mixed, she has a big cock, and she loves showing it off on cam and in her videos. You can watch her live performances and follow her on twitter here: @tsjessy. She also has a members website where you can view exclusive content that you can see here: jessydubai.com
Tags: