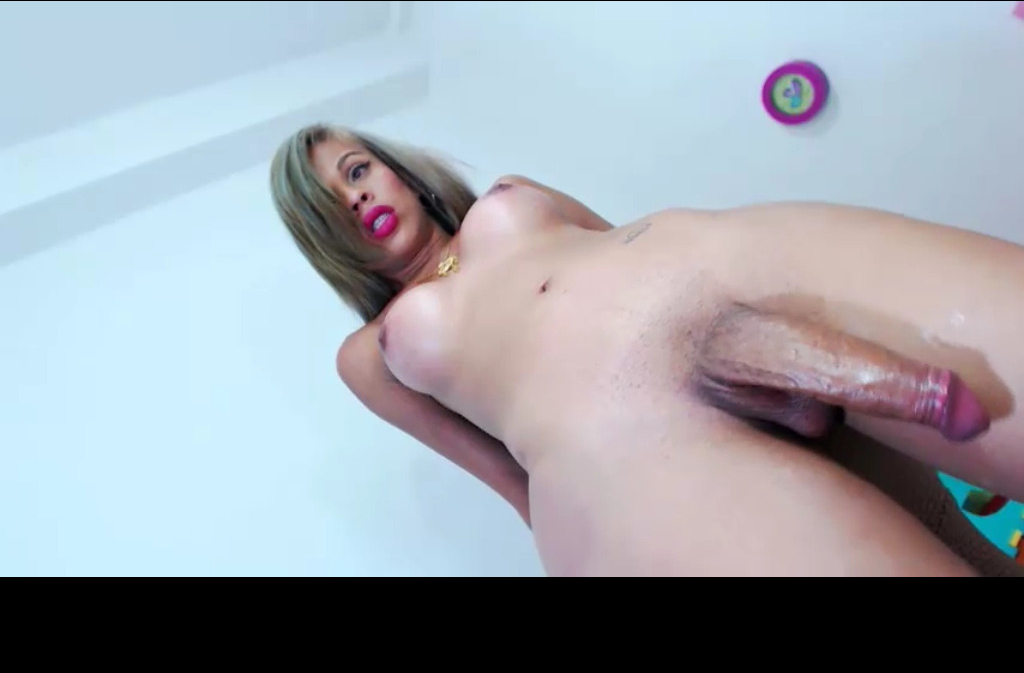 2016's Top 22 Trans Porn Stars, Live Cam, Escorts & Models
Melody Monae
Gender: Transgender
Age: 24
Location: Michigan, United States
Body Type: Slim/Petite
Eye Color: Brown Hair
Color: Black
Ethnicity: Mixed Race
Penis Size: Very Big
Breast: Implants. Medium/Big
Twitter: @melodymonae
Relatively new to the scene and only hosting live shows, Melody Monae was sent by the angels to grace us with her performances. This babe is a black and Italian biracial beauty who hails from Michigan. She is super happy all the time and MY GOD is this girl HOT! She has a fat 8/9 inch cock, a rocking pair of tits, a dime piece body, and she is an absolute sweetheart to top it off. If you have not seen her live performances on CB yet you can view her here: https://t.co/lzU9HIP356. Melody is active on Twitter and often posts exclusive content there for her followers. You can follow Melody here: @melaniemonae. If you haven't cammed with her yet, go check her out guys because she's pretty awesome!
Sarina Valentina
Gender: Transgender
Location: Philadelphia, United States
Eye Color: Blue
Hair Color: Varies
Ethnicity: White
Penis Size: Small/Medium
Breasts: Implants Big
Build: average
Twitter: @SarinaValentina
Trans pornstar Sarina Valentina Sarina Valentina is another American TGirl, hailing from Philadelphia, PA. She is an award winning trans porn star that now cams on a few different networks in addition to shooting porn for many leading studios. Sarina Valentina has over 100 videos on ashemaletube where she fucks guys, girls, and other hot trans girls. Sarina truly is a girl who takes all comers. With her large eyes and perfect tiny mouth, this babe has one of –if not THE– most feminine faces in TS porn. My personal favorite video of her is when she fucks female porn star Katie Summers for Evil Angel. You can follow Sarina on Twitter here: @SarinaValentina
Natalie Mars
Gender: Transgender
Location: Las Vegas, Nevada
Eye Color: Blue
Hair Color: Brown
Ethnicity: White
Breast Size: Natural
Penis: Average, Girthy
Twitter: @theNatalieMars
Natalie Mars is a 32-year-old trans girl from Arkansas currently residing in Las Vegas. She has the famous tagline "Mister, I'll show you my wiener for a nickel" on CB, and every time I see it, I chuckle. She considers herself to be a horny dork. And I love that about her! Natalie was the 2016 Transgender Erotica Awards Winner: Best New Face. More recently she has done shoots with ChristianXXX and PureTS, so my guess is we will see a lot more from this starlet in the coming months. You can follow Natalie on Twitter here: @theNatalieMars .
Morena Black
Gender: Transgender
Location: United States
Gender: Transgender
Location: United States
Eye Color: Brown
Hair Color: Black Ethnicity: Ebony/Latina
Penis Size: Big
Build: average
Twitter: @tsmorenablack
Morena Black is a Trans pornstar and cam model that if you are not following on twitter, I suggest you do so right now. She is always posting awesome eXXXclusive content. I once found myself mesmerized watching a video of her bouncing her huge Latina cock over and over on a gif loop. You can watch her live shows on CB, and I'm sure there is a plethora of porn on the tubes. But I sincerely recommend her Twitter. You can keep up to date on her scenes, travel and get immersed in excellent exclusive content straight from the babe herself.
Domino Presley
Gender: Transgender
Country: USA
Ethnicity: Caucasian
Hair Color: Varies
Eye Color: Hazel
Penis Size: Above Average (7")
Breasts: Implants. Big
Twitter: @DominoPresley
Domino Presley is another of TS porn's most popular porn stars. This gorgeous mixed race alt babe has colorful and funky yet long and flowing hair, and is always looking her best. She recently started doing live cam shows on CB. Domino is an award winning trans porn star that has shot with practically every company around. She is very versatile in that she performs with all genders - girls, guys, and other transgirls - and her live performances are pretty impressive too! I saw one show recently, and guys were coming in the chatroom in complete disbelief that it was actually her. You can check out Domino's website here: https://www.DominoPresleyOfficial.com and her twitter account here: https://twitter.com/DominoPresley
Yasmin Lee
Gender: Transgender
Eye Color: Brown
Hair Color: Black
Ethnicity: Asian
Penis Size: Big
Breast: Implants. Medium
Twitter: @TSYasmin
I mentioned in a previous post that Yasmin Lee is the porn star that opened my eyes to TS porn and webcams. I watched her fuck and dominate a hot Asian babe with her massive cock, and I think I have watched that video several hundred times since then. Yasmin Lee predominantly shoots for kink.com as a top, fucking and dominating guys with a passion. She is of Thai, Cambodian, and Chinese decent, giving her a beautiful exotic Asian look that will leave you begging to serve and worship her. She has won numerous awards, including Kink.com's award for Kinkiest TGirl Domme (which makes my cock throb), and nominated for several more. Yasmin Lee also had a role in 2011 hit comedy Hangover 2, giving the trans community some recognition in a mainstream movie that was viewed by millions around the world. Even though the scene was a stereotypical portrayal of transgirls, (she played a trans prostitute in Thailand) it was funny nonetheless, and I'm sure paid far more than her usual on-camera appearances.
Jessica Fappit
Gender: Transgender
Country: USA
Ethnicity: White
Hair Color: Brown
Eye Color: Brown
Penis Size: Big
Breasts: Natural
Twitter: @JessicaFappit
Jessica Fappit is a bottom only trans girl that has one of the biggest TS channels on Clips4sale. And what a bottom! Her ass is truly perfection and she loves to show it off. She performs live on Streamate and CB, and has her own views on how TS porn should be. This budding starlet is very active on social media, and with her rapidly growing social presence, I'm sure there's more to come in the future from this adorable buttslut. You can see her C4S store here: JessicaFappit.com and follow her on Twitter here: https://twitter.com/JessicaFappit
Tags: